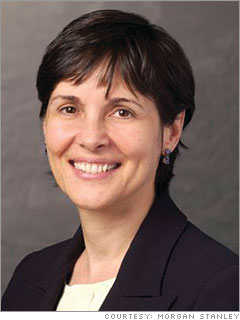 "Zoe Cruz ex Co-President of Morgan Stanley ousted three weeks after the firm disclosed $3.7 billion of losses on mortgage-related securities"
Zoe Cruz born and raised in Greece, solidified her position as a powerhouse on Wall Street, she started in investment banking, joined Morgan Stanley in 1982 as a foreign exchange trader and became head of fixed income trading by 2000. Known as the "cruise missile" for her combative style in business.
2007 Fortune 1 of 50 Most Powerful Women rank: #16
2007 Fortune 1 of 6 female CEOs-to-be
2006 Fortune #1 Highest Paid Female - Total compensation: $30 million
Cruz counsels young people not to plan their careers ... "When you don't plan, things are easier," she says. "You focus on doing a great job."

Zoe Cruz, 52, a 24-year veteran of the Morgan Stanley, was viewed by analysts as a leading candidate to succeed Chief Executive Officer John Mack. Her departure adds to the list of banking executives who have lost their jobs amid more than $50 billion of credit losses tied to subprime home loans.